email marketing
Email marketing campaigns are a cost effective way for business to communicate with customers. We monitor campaign results and tell you how well it's working. Are people opening your email? Are they visiting your site?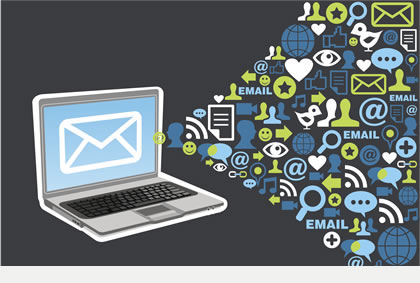 Email marketing works
Large household name companies use email marketing because it works and improves sales. Results can be accurately measured and it's reasonably priced.
Our email marketing expertise gives our clients the same advantages. Our carefully managed campaigns get excellent response rates. If you'd like a detailed Case Study please get in touch.
We design emails and newsletters which make an impact. We want people to read your message and respond. This could be by clicking on a link to visit a webpage, replying to the email or picking up the phone.
The specialist software we use to send emails records information about every email we send. For each recipient we know if they open an email, what they click on and what pages of your website they visit. By looking at the results for each email campaign we build a history of people's interests.
This lets us design more targeted email campaigns with offers and information we know will be of interest to them.
List management
We're talking about opt-in email marketing where people give permission for their address to be added to a list. They want to hear about company offers and news.
We're experts in building and managing email address lists. This data is valuable and it's important to take every opportunity to invite people to opt-in:
We put a link on every web page encouraging visitors to 'sign-up for your newsletter'.
We design a database linked to your 'sign-up page'. As well as visitor's name and email, we can ask for other information which lets us send targeted emails.
We'll help you transfer data from the 'real offline world' to your email database.
Don't send spam
Don't be tempted to cut corners and buy a list. List brokers will promise their data is up to date but it won't be. The people you write to won't read your message but they may remember your company as one that sends spam.
The results are very impressive. Almost as soon as the emails are sent the phone starts ringing and email enquires start arriving."
Lisa Peacock
Owner, Travel Company
Our first mailing list had just 300 contacts. Over the last couple of years this has grown to more than 10,000 people. Whenever we speak to people we invite then to sign-up for our newsletter - and they do! "
Retail Manager
Talk to us about your plans. Email us or call us on 01825 840 446 for free, friendly advice.
The Computer Works is a software development, database design and online marketing consultancy based near Lewes. We work with small and medium-sized businesses in Brighton & Hove, Sussex, the South-East and throughout the UK.